Technical Information - Type 'D60' Series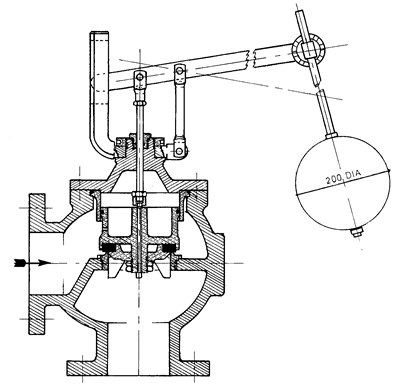 The 'ROMA' Type 'D60' Float Valve is hydraulically operated, single seated, piston actuated, internal pilot and float controlled.
At full supply level, inlet pressure is retained within the piston chamber by the pilot valve, equalising pressures across the piston, and permitting inlet pressure to close the valve.
As supply level falls, the pilot valve discharges internal pressure allowing inlet pressure within the valve to act upon the larger piston area to lift the valve to a modulating opening.
The angle type Fig. No. 145A valve is ideally suitable for end of line services in make-up water and service water tanks, etc., whereas the globe type Fig. No. 145 in the larger sizes are used for surface reservoirs.
Water supply authorities and industry throughout Australia accept the robust reliable design and construction which utilises proven materials.

Dimensions (mm)
| | | | | | |
| --- | --- | --- | --- | --- | --- |
| Valve Size | 50 | 80 | 100 | 150 | 200 |
| 'A' | 120 | 130 | 180 | 220 | 230 |
| 'B' | 120 | 130 | 180 | 220 | 230 |
| 'C' | 250 | 360 | 380 | 400 | 510 |
| Mass / kg | 26 | 40 | 60 | 120 | 190 |
Specifications
Flanges
AS 2129 Tables E and F
Working Pressure
Table E 1400 kPa
Table F 2100 kPa
Temperature Range
5 - 60oC
Materials
Body and Cover:
Cast Iron AS 1830/T250
Valve Carrier
50-300mm Bronze AS 1565/836B
400-610mm Cast Iron AS 1830/T250
Internal Parts
Bronze AS 1565/836B
Grade 316 Stainless Steel
Coatings
Optional (0.5mm min. D.F.T.)
Valve Disc and Seals
Polyurethane, Neoprene
Spindle, Links & Pins
316 Stainless Steel
Grade Float Arm
SS Tube or Steel-Galvanised
BronzeFloat
Plastic, Copper or Coated Steel
Recommended Maximum Flows (l/sec.)
Valve Size
50
80
100
150
200
250
300
400
450
500
610
Normal Max.
Vel. 6m/sec.
10
20
40
80
190
300
430
770
970
1190
1720
Occasional Max.
Vel. 8m/sec.
13
30
55
110
250
400
570
1020
1300
1590
2290